by Mission Océan 22 Mar 17:08 PDT
Laura using the spray bottle to clean stainless steel © Mission Océan
Today is World Water Day, and so it only seems fitting that we've been thinking about our fresh water consumption on board Contigo. Drinking water on board boats is always a big problem : how best to produce it and store it, where to position the water tanks, how much we should be drinking at sea… All cruisers will know the importance of being economical with water when showering, doing dishes or washing clothes.
We've come up with a few ideas, and been inspired by other cruisers, to reduce our consumption. On board Contigo, we use less than 300L per week for two people, including showers, dishes, clothes, drinking water, and general boat cleanliness and maintenance.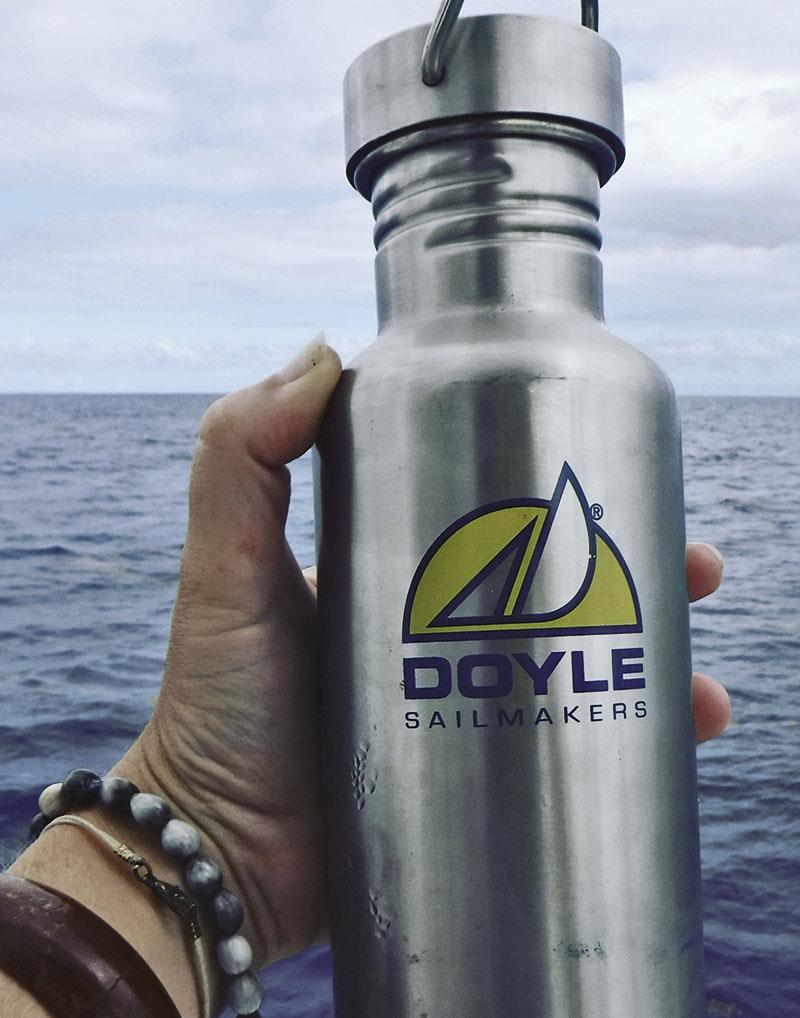 Our plastic-free drinking bottles - photo © Mission Océan
We make our own drinking water on board, using our desalinator. Ours is an OctoMarine Deep Blue 25, the smallest in their range of water makers, and is capable of producing up to 220L per hour. This covers our consumption for a week comfortably, and means that we could even use it to fill up big water tanks in a village in need, after a hurricane or earthquake for example. The only downside to our system is that we have to fire up our generator in order to power the 220V water maker, as it has a power peak of around 3.5kW.
We decided to equip Contigo with a 4kW portable generator, so that we can take it ashore with us when we participate in construction projects or field trips. This also avoids running our engines to make water, and thus brings down our running time and maintenance costs. The generator is stored in one of our deck lockers, so we have to get it out and run it on the deck, which makes for a rather noisy couple of hours every two weeks...!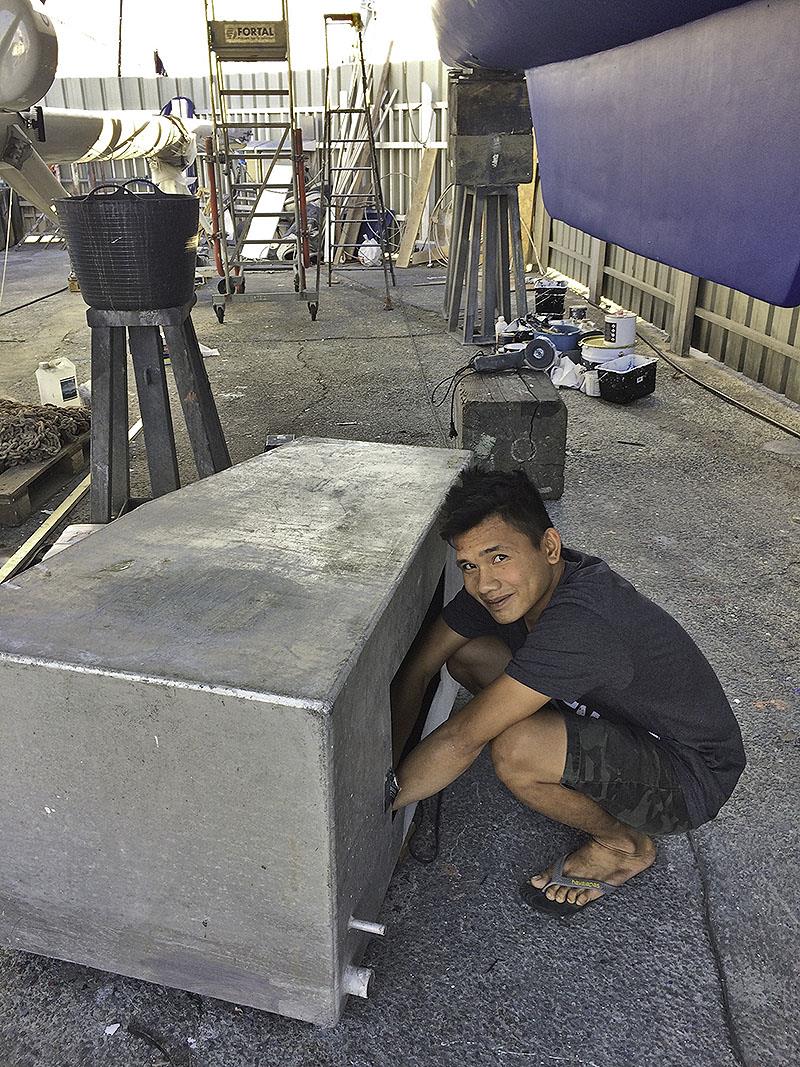 During the water tank modifications in the yard - photo © Mission Océan
When we bought Contigo almost exactly a year ago, her water tanks were all but held together by the limescale and sand deposits within. We simply couldn't afford to have new aluminium tanks made, but luckily a friend came up with a rather clever solution. We removed the tanks in the shipyard, cut holes in them and cleaned them out as best we could. We then lined them with thick rubber, as a thermal insulator but also to round off the sharp edges left by the corrosion (and us hacking the tanks apart).
We had custom soft tanks made up by a company called RCY, similar to a portable diesel tank that you might have on deck for a long crossing, which we then inserted into the aluminium housing, and attached to avoid them sliding around. The tanks went back in, were connected up and worked a charm. Fountaine Pajot located our tanks at the foot of the mast from build, together with our sail and chain lockers.
We also moved one of our battery banks there from the aft cabin, thus centring a lot of the weight that we carry. This configuration makes our tanks easily accessible in case of repair or maintenance, unlike several cats that we visited whose tanks were located in the keels. Whilst this may seem like a good idea in terms of weight distribution (as low as you can go), we spent a good few hours pondering how we would gain access to repair the damaged tanks on a second hand Lagoon 47 that we very nearly purchased.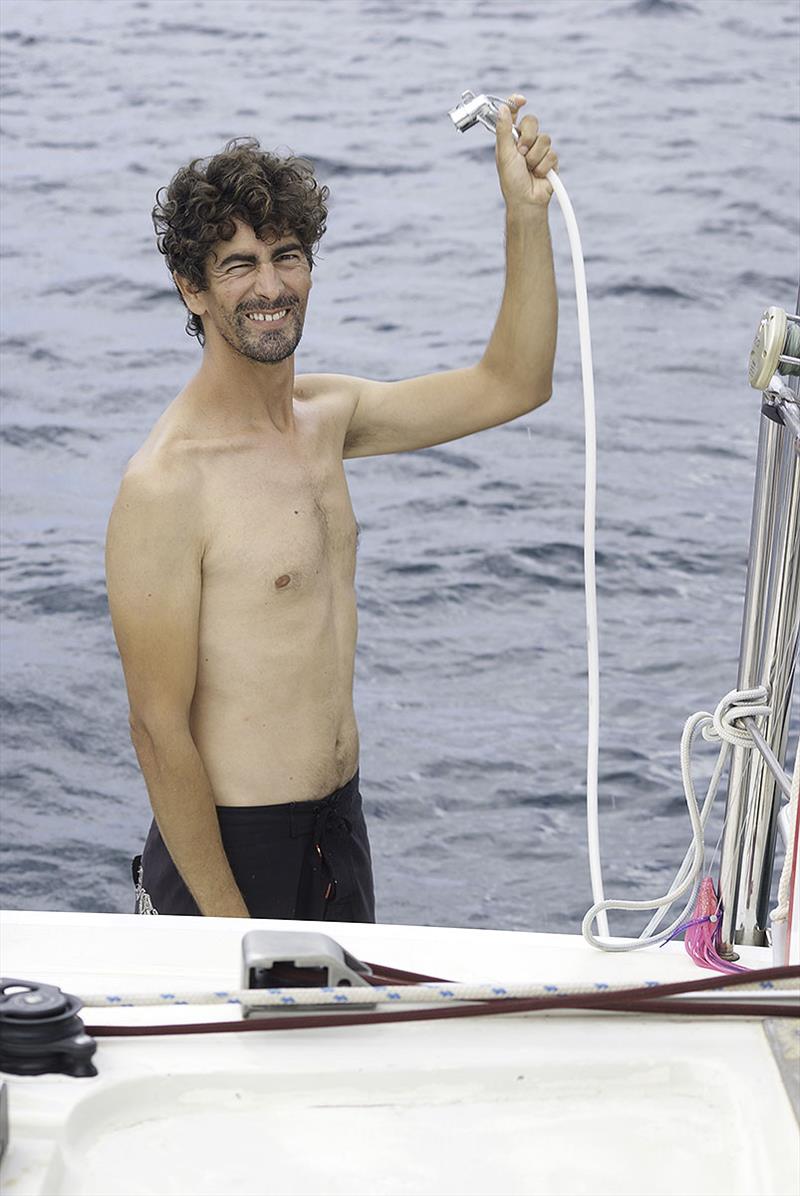 Henrique `enjoying` a cold shower - photo © Mission Océan
In order to keep our tanks clean, and to be sure of the quality of the water that we are drinking – especially if we have filled up from the dock somewhere – we use Aquatabs water treatment products. These act as a sterilizer and also as a preventative maintenance tool, keeping nasty bugs and gunk out of our water. We've been on board boats where the water poured with lunch was yellow or smelly, a problem that we are pleased to say we've never encountered on our catamaran.
Out on deck, we drink our water from 100% plastic free bottles (ours are from cleanwave.org, gifted to us by Doyle Sails Palma), and we have enough of them on board for all our volunteer crew. Recent studies have shown that plastic bottles leech endocrine disrupting chemicals into drinking water, and that this process is especially accelerated when bottles are left in the sun, which ours almost invariably are. According to our sailors' medical guide, when on the water we should be aiming to drink at least twice as much water than on land, which would make for a lot of plastic bottles (and a lot of chemicals!)
In order to bring down our consumption on board when we are sailing or when at anchor, we have come up with a few clever ideas. Showering is not really an issue for us ; no one uses much more than is strictly necessary, as we have no hot water on board (we chose to remove the old, tired system before it sprung too many leaks, and when we saw the weight and space that we had gained, we decided that we could live without hot showers. We regretted this choice in the Balearics in November, but do not miss hot water at all now that we are in the Caribbean).
We generally shower outside after a quick swim, but if you are using yours inside the boat then why not convert your shower into a washing machine? This is a tip that I picked up from Sailing La Vagabonde on YouTube, who throw some dirty clothes into their shower tray and leave them to slosh around and soak for a couple of hours before pumping dry. Keeping the boat clean, and free of salt and rust is a potential drain on fresh water resources when not in port.
We have overcome this with one simple purchase from a gardening store in Martinique: a crop-spraying gun. When filled with a little fresh water, this enables us to spray our stainless steel, windows etc. with a light mist, then wipe over with a cloth to keep them clean. We also use this for rinsing wetsuits, kayaks, boat hooks... anything that gets salty and needs a quick wipe down. Compared to a hose, or a bucket and sponge, the water usage with our spray gun is a tiny percentage.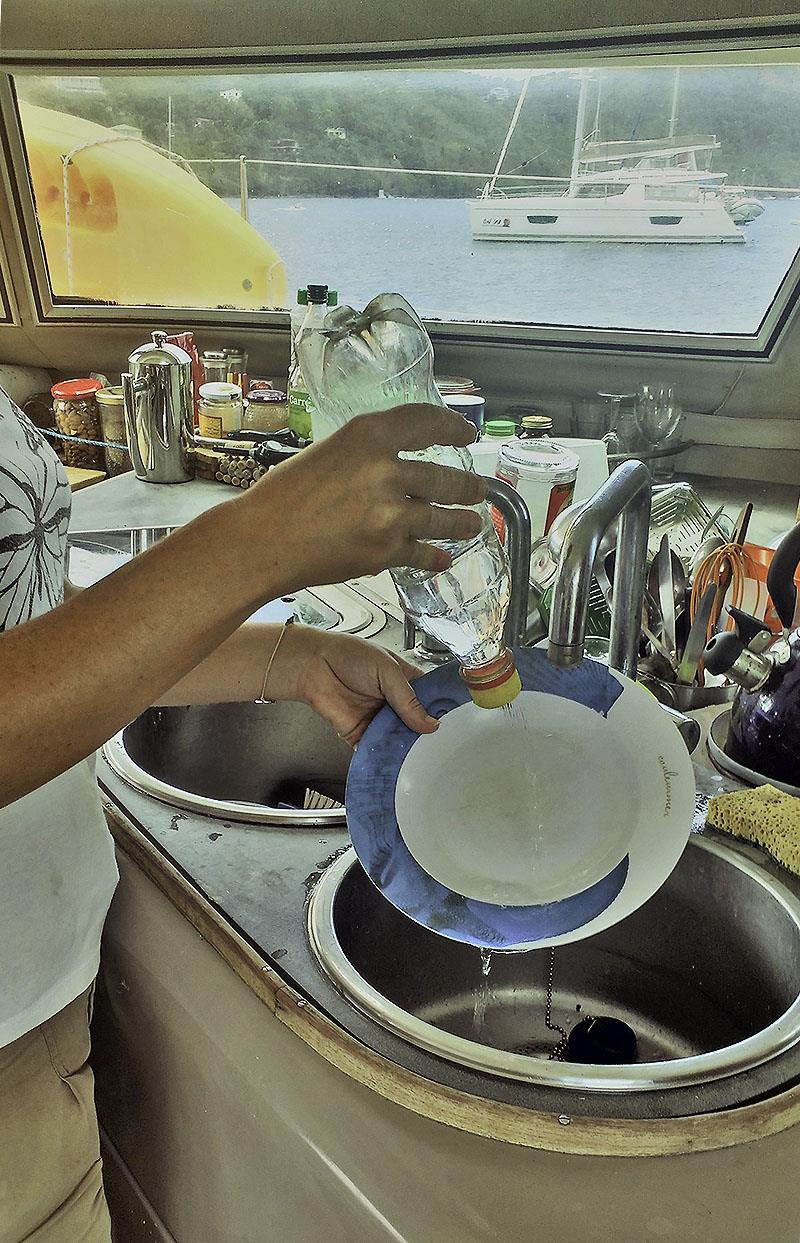 Our crafty little rinse bottle for the dishes - photo © Mission Océan
And finally, one very simple idea that was shared with us by a French cruising couple has probably saved us the most water of all. As many cruisers do, where possible we wash our dishes in salt water before rinsing them with fresh. Rather than using our fresh water tap, we recycled an old plastic bottle by piercing the lid so that only a few drops come out at a time. We fill this bottle with fresh water and use it to spray our dishes; one 50cl bottle lasts us for a couple of meals worth of washing up!
Saving water on board is all about being innovative, keeping an eye on your consumption and finding little tricks to save a drop here or a bucket there. The next step for us will be the installation of a system to collect rain water, which we will be integrating into the hard top that we built over our cockpit. We regularly discuss water with our cruising friends, and it's always interesting to share our tips and get inspiration from others over a rum or two. And after all, the more rum we drink, the less water we consume. Right?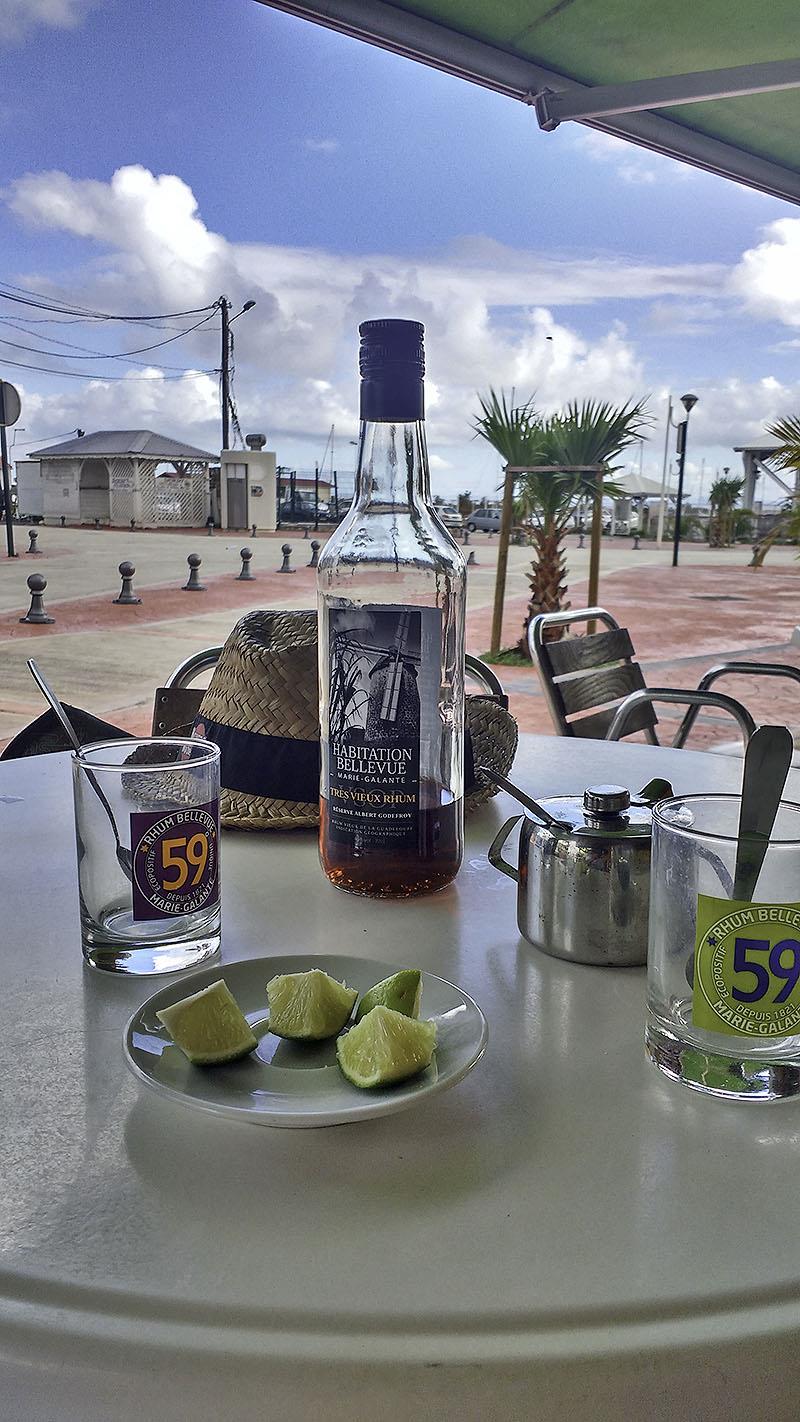 Cheers! - photo © Mission Océan
Mission Ocean is proud to be supported by: Boero, Doyle Sails Palma, Rotary District 1730, Navigair, Octomarine, Battery World Service, Victron Energy, Monaco Marine, Aquatabs, Spade Anchors, Plastimo, Furuno France, Pejout Marine Services, Lyvio, Storm Bird, Aethic, Corsica Yacht Services, Astrolabe Expeditions, Asociacion Ondine, AGL Marine, and Sail-Worldcruising.com
Mission Ocean is Laura Beard and Henrique Agostinho. Their three year plus mission is to share their love and respect for the ocean with others, through education and scientific research. Neither is a stranger to the water, so they have combined all their skills and passions in this bold, courageous and inspiring project. Sail-Worldcruising.com is delighted to be with them for the journey of their lifetime. You can also find out more on their Facebook page: Mission Océan