3 minutes reading time
(607 words)
RED ALERT: Crown of thorns starfish outbreak on the reefs of Port Sudan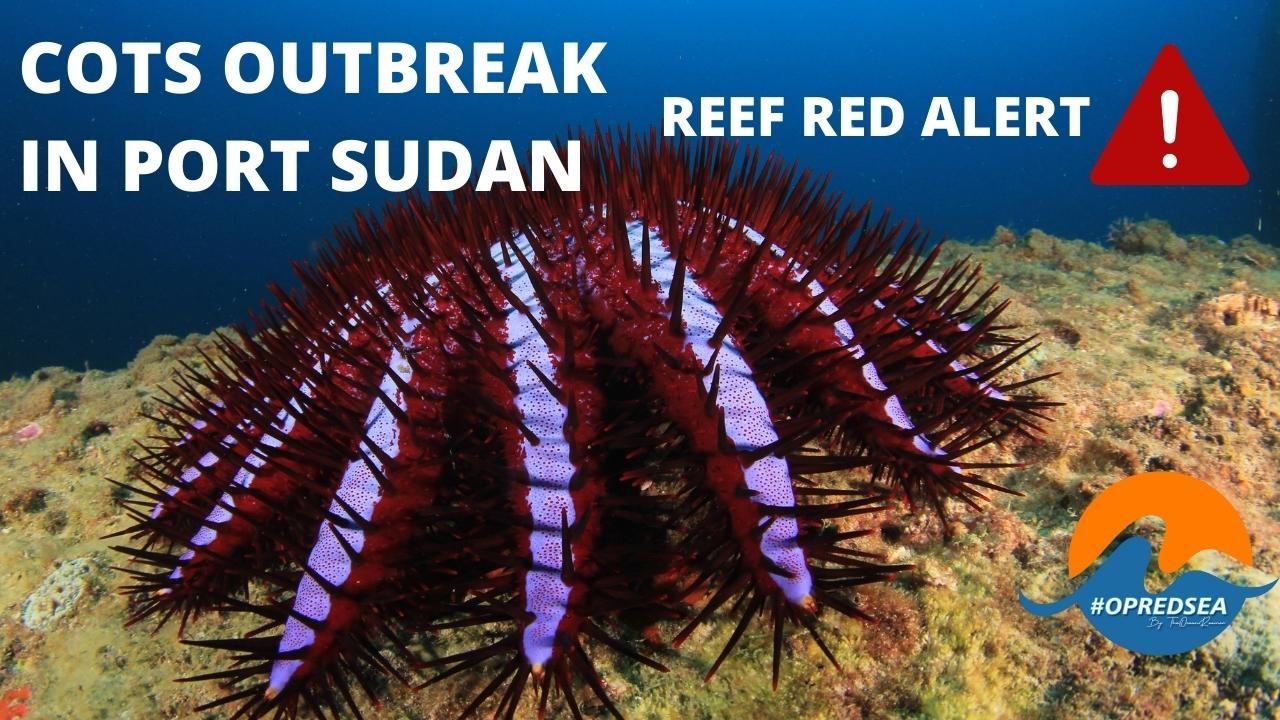 While performing our research & monitoring work in relation to our Vault Project, in the immediate surroundings of the reefs of Port Sudan, we were horrified by the realization that we are having a COTS outbreak. COTS stands for Crown Of Thorns Starfish. The adult crown-of-thorns is a corallivorous predator that usually preys on reef coral polyps.
It climbs onto a section of living coral colony using the large number of tube feet, which lie in distinct ambulacral grooves on the oral Surface. It fits closely to the surface of the coral, even the complex surfaces of branching corals. It then extrudes its stomach out through its mouth over the surface to virtually its own diameter. The stomach surface secretes digestive enzymes that allow the starfish to absorb nutrients from the liquefied coral tissue.
This leaves a white scar of coral skeleton (dead coral) that is rapidly infested with filamentous algae.
An individual COTS can consume up to 1 square Meter of living coral reef per month!
---
THE PROBLEM:
Over 20 COTS in a mere 90 square Meters area

These footage fragments show visible COTS (they are mostly nocturnal), filmed in "Erg el Nahas" of the fisherman's wharf of Port Sudan. One can assume another 10 or more COTS hidden away in crevice's.
To put this in context in a month's time they will have consumed approximately 30 Square Meters of healthy reef. Bear in mind, the area we reviewed was only 90 Sq meters, we expect the outbreak to be much larger!
Having a large aggregation of COTS as is the case here, also entails they are multiplying.
"During the breeding season, which is typically during early to midsummer, the starfish may gather together high on a reef and synchronously release gametes to achieve high levels of egg fertilization."
Unchecked the multiplication factor, will have even more disastrous consequences. This outbreak will also not be contained to just the area we surveyed, they will migrate and expand to other reefs.

When discussing the cause(s) for this outbreak, it is TheOceanRoamer's view that the following factors, can be attributed in order of importance to fueling this outbreak.
1. Overfishing of Triton shellfish and other gastropod natural predators, from the shallows. intended for oriental export (in our case here China). As there is no oversight currently on catches.
2. Climate Change and Land runoffs (waste water and sediments)
Read below how also you can help us, take care of this outbreak
---
MORE INFO on COTS
How developed countries deal with a COTS outbreak


Credit: ABC science
This video gives more insight into a COTS outbreak, and how Australia, a western developed country resolved this issue.
---
OUR SOLUTION
Solving the problem locally in Port Sudan
The solution is quite simple. The COTS need to be removed out of the Sea ASAP, by a team of divers. Using hooks on a daily patrol the COTS are removed, brought to land, scientific data recorded and then left to dry in the harsh sun.
Minimal budget would be of 2500€ / Month, which should cover for the divers, boat rental and miscellaneous associated costs.
As of tomorrow I will consult with our scientific consultant to get the permits necessary from the authorities, and setup the scientific oversight of the process.
We need financial support by our fans and followers, to finance the removal of the COTS, please help us safeguard Port Sudan's Red Sea reefs, by donating.
Click here or on the donate button to make a small donation, either by Credit Card, or via Wire Transfer.